Your Team
The Mike & Marta Team is a group of established and passionate real estate brokers with 36 years combined experience. Compass backs them with 7,000 collaborative associate brokers; design and marketing experts formerly at Apple and Condé Nast to name a couple; and software engineers and data scientists from Twitter, Google, and Facebook who continue building analytical tools to help us sell your home smarter. Together, we are pioneering ways to make your property look its absolute best and sell at the highest price possible. We also have a knack for making the process enjoyable for everyone involved.
Testimonial
Mike & Marta are the best! After meeting lots of eager agents who of course all say the right things, I chose Mike & Marta, in part, because of the mutual respect they showed each other. I could see they were a real team. They were both knowledgeable and professional, but also warm and easy to communicate with. I wanted to feel both guidance and friendship in this process. Once we did begin working together they took the lead and made me feel secure while always being available and open to all my inquiries and input. I trusted them, and it was a trust well place. They gave me an outstanding result regarding timing and contract negotiations and I highly recommend working with Mike & Marta.

—Judith Braun
Here's our playbook. Have a look and we'll tailor another version to your very unique property.
Request a Custom Valuation
Whether you're ready to sell or looking for answers, we'll guide you with data and expertise specific to your area.
Our team of industry-leading software engineers and data scientists are building analytical tools to help you answer real estate's toughest questions.
Request a custom Valuation to discover real-time insights for your area.
National Network
Since our launch in 2012, we've aimed to simplify the real estate process, one market at a time. With agents and teams serving vibrant communities coast to coast, Compass is now among the country's largest owned luxury brokerages.
7,500
Number of Compass agents nationwide
20
Number of our major markets
#3
Our brokerage rank in National Markets
200+
Number of Compass Offices
$30B
Total sales volume to date
$6.8B
Value of current Compass exclusives
Sell Smarter
In just six years, Compass is valued at $4.4Billion as a Tech-based Real Estate Company. And we -- Mike & Marta -- are veteran brokers with nearly 36 years experience and $300+ Million in combined sales. Our team is backed by top software engineers and data scientists who are building analytical tools to help you answer real estate's toughest questions.
Here are some of Compass's proprietary tools we use: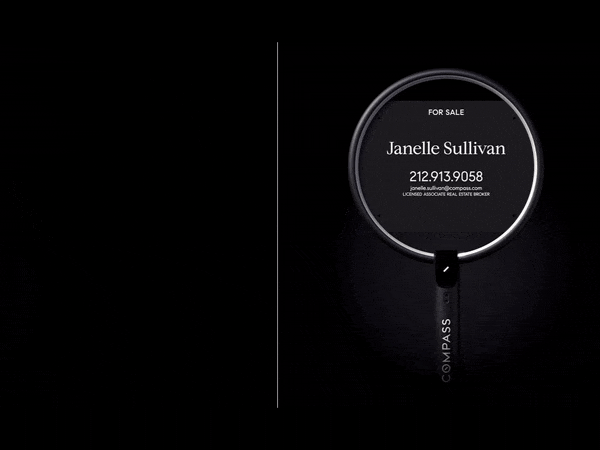 Using new A.I. technology, each sign acts as a geo-located digital hub, instantly connecting consumers with agent-curated content through the Compass RE App. Without the app installed, the QR code will direct to a download option. Agents can simply use bluetooth to sync their phones and sign, allowing them to remotely manage insights and content directly through their agent app.
What is the value of my property?
Our proprietary Valuation tool allows us to instantaneously compare your home to the most similar properties on and off the market to accurately determine its value.
How will my agent reach buyers?
We have 350+ parameters to determine comparable listings, identify cooperating brokers, and correspond with the ideal prospective buyers through a series of digital campaigns and targeted outreach.
What analytics will my agent use to market and track my property?
We can now track the performance of your sale! Insights empowers us to take a data-driven approach to selling your home. Real-Time data allows us to track your sale's metrics useful for lead-generating opportunities.
How long will it take for my property to sell?
Called the "Pinterest" of real estate, Collections is built into our Homes app and also accessible online. Collections allows you to monitor the market with us. It's a central, visual, and collaborative space. It's awesome.
Is there an app to show me real-time data to verify pricing?
Market data has never been more readily available. Track and monitor your home's competition
Global Presence
Owing to a considered geo-targeting strategy, Compass listings have a digital presence in over 50 nations around the world.
Compass is the Largest Domestic & Global Network
As the fastest-growing brokerage in the country, our national infrastructure is paired with affiliates in every luxury market around the globe, affording unprecedented property exposure.
51
Countries to which Compass syndicates listings
3.8B
Our international impressions per year
1.8M
Potential international social impressions each year
78
International real estate syndication portals
1.7M
Unique international users on compass.com per year
As a private luxury real estate brokerage with more than 2,000 agents across 40 offices in 20 markets across the country, we hire selectively to ensure your agent is a trusted partner.
We use proprietary tools to price and position your home to find the best buyer.
20x
Our average sales volume compared to the national average.
$8 Billion
Annualized sales volume of our current agent population.
Real Time Data
Our team of industry-leading software engineers and data scientists are building analytical tools to help you answer real estate's toughest questions.
Your home, everywhere
Working with our in-house marketing and advertising agency, your agent will target the right audience across the most effective channels. Our cohesive brand identity will elevate the style and story of your home.
Fewer days on market means more value for you
Backed by data-driven strategy, Compass listings spend 19 fewer days on market than the industry average.
Regional Success
Since our 2012 launch, we've improved the real estate process through a combination of expansion, investment, and innovation. A look back at how we've transformed the market:
In June 2017, we unveiled the Compass mission to help everyone find their place in the world. Based on the reaction from all of you and the many people outside of the company that took notice, I know we captured the deeply personal impact we make in the lives of everyone we touch. In October, we shared our vision for 20% market share in the top 20 U.S. cities by the end of 2020, and the four products we will launch in 2018 to propel us toward that vision. Just two months later, with a $100 million capital raise from Fidelity Management and $450 million from SoftBank, as well as a very successful launch in Chicago with over 50 amazing agents including the #1 agent in Chicago Jeff Lowe, those stretch goals for 2020 are feeling more and more within our reach.
September 27, 2018
Compass nabs $400M, valuing the real estate technology startup at $4.4B
With an incredible team of people, plenty of capital, and the wind at our backs, Compass is entering a period of tremendous growth for Compass. 2018 will be the year where we focus on expansion — expansion of our technology platform and geographic expansion to every major market in the country. Combining the technology platform with leading market share in every major market, 2019 will be the year where we become the largest owner of real estate data in the U.S., giving Compass a significant competitive advantage.